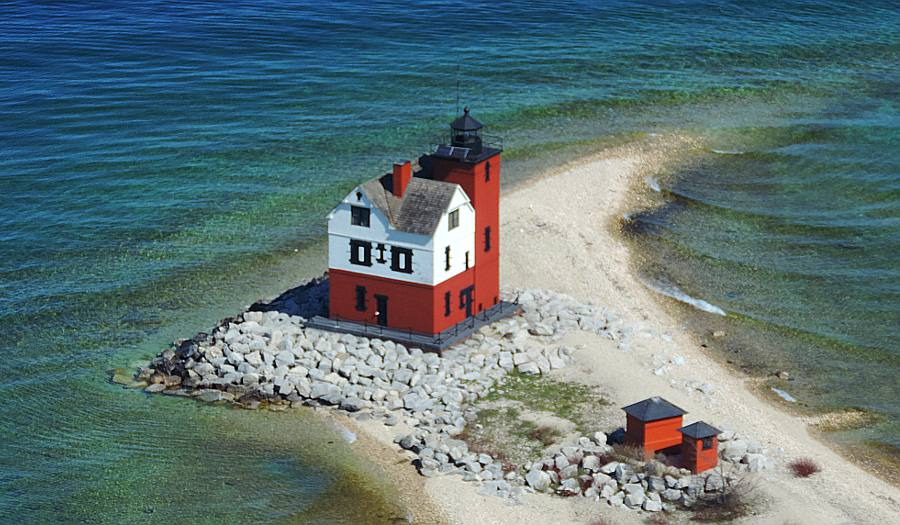 COLOSSIANS 1:21-29
CHRIST RENOVATES
THE CHRISTIAN'S LIFE.
In the name + of Jesus.
If you have ever taken the boat ride over to Mackinac Island, you have seen Round Island Lighthouse. It is a beautiful, red and white lighthouse which marks the way into the harbor at Mackinac Island. That lighthouse was not always so beautiful. After it was no longer manned by a government-appointed light-keeper, the lighthouse fell into disrepair. In fact, it was pretty much a ruin. Many people would have said the reasonable thing to do was to demolish it. A group of lighthouse enthusiasts took strides to save it. They collected funds and put in the work to restore and renovate that lighthouse. You'd never guess today that the Round Island Lighthouse had been a dilapidated mess. It was renovated into something beautiful.
Round Island Lighthouse before renovations.
St. Paul told the Colossians that they were pretty much the same. They were broken in their sins, and they could not fix themselves. In their sinful condition, they were hostile to God, despising God's commands of right and wrong, pursuing their own selfish goals, and gratifying their own lustful cravings. Many would argue that the reasonable thing to do is destroy such rebellious sinners. Nevertheless, St. Paul wrote,
"And you, who once were alienated and hostile in mind, doing evil deeds, he has now reconciled in his body of flesh by his death, in order to present you holy and blameless and above reproach before him, if indeed you continue in the faith, stable and steadfast, not shifting from the hope of the gospel that you heard, which has been proclaimed in all creation under heaven, and of which I, Paul, became a minister." (Colossians 1:21-23)
These Colossians had been broken, alienated, self-glorifying, self-gratifying, enemies of God. That is what they were. Through the Gospel, God revealed himself as the one who heals them of their brokenness, who reconciles them from their alienated status, who emptied himself of glory to suffer and die to win them glory, and who turned them from enemies of God into children of God. God revealed himself through Jesus Christ who suffered and died for sinners in order to reconcile sinners to God. In baptism, Jesus cleansed them so that they were now holy, blameless, and above reproach before God the Father. Christ renovated these Christians, covering them in his own righteousness. Of course, this is not just the story of the Colossian Christians; it is the story of every Christian. This is your story, too. Christ renovates the Christian's life.
Because it was renovated, Round Island Lighthouse is beautiful. But you only get to see the outside. The online virtual tour reveals that the inside is still a work in progress. It will take some time and effort before Round Island Lighthouse is renovated to be what it was originally designed to be.
Christ renovates the Christian's life. It is more than the fact that you have been covered by the blood of Christ. It is more than the fact that you bear the status of God's holy children. The mystery is greater than than. The mystery is that Jesus Christ dwells in you. St. Paul declares that he was made a
minister of Christ to make the word of God fully known, the mystery hidden for ages and generations but now revealed to his saints. To them God chose to make known how great among the Gentiles are the riches of the glory of this mystery, which is Christ in you, the hope of glory. (Colossians 1:25-27)
Jesus Christ dwells in you. Jesus transforms you so that you not only are a child of God, but also so that you now live as a child of God.
Christ renovates the Christian's life. Your sins have never been acceptable to God. God has led you to repent of them; therefore, your sins are no longer acceptable to you, either. Day after day, you strive to rid yourself of your sins. If your house had rodents running around in it, you would do everything to get rid of them. Rodents are destructive. They are undesirable. They can even bring in disease. You want them out; and you would prevent them from getting back in. Your sins are far more destructive and deadly than rodents. That is why we do not give into them again. Christ's forgiveness is not a license to continue in your sins. Christ's forgiveness is never to be used as an excuse for doing evil deeds. Jesus died for these things! Why would we return to them? Rather, we flee from them. Christ renovates the Christian's life. He transforms us so that we despise what is wicked and pursue what is good.
Now, you likely recognize that your life does not measure up to what you what it to be and to what it should be. You are not unique in that. No one gets to where they want to be. Though we all strive to live as children of God, we still prove ourselves to be sinners. That does not mean that Jesus Christ has failed us. Christ is not weak; we are. We still struggle with temptations, and we still succumb to them. We still need a Savior. But Jesus Christ does not abandon you in your weakness. Christ still dwells in you. He still marks you as his own. He continues to cover you with his righteousness. He continues to work in you to transform you. He is day by day, year by year, working in you so that more and more you are being renovated into the creation God has always designed and intended you to be. His renovation project in you will go on for the entirety of your life. If you are hearing God's word and partaking in his sacraments, Jesus Christ will always dwell in you and work in you to make you more Christ-like. That is how he renovates the Christian's life.
St. Paul wrote,
"Now I rejoice in my sufferings for your sake, and in my flesh I am filling up what is lacking in Christ's afflictions for the sake of his body, that is, the church..." (Colossians 1:24)
Christ renovates the Christian's life, even through sufferings. It is not that Christ's atoning sacrifice is in any way insufficient for your salvation. Jesus died for sins, once for all, to bring you to God. That is certain, and it is complete. Yet, the Church is the body of Christ, and the body of Christ will still be afflicted until Jesus comes again. Just as the world hated Jesus and crucified him, so the Church also shall be despised for speaking as Jesus speaks and for loving as Jesus loved. St. Paul notes that these are necessary. If you are suffering for the sake of Christ, that demonstrates that Christ truly does live in you and that Jesus' work in you is seen by others. If you would suffer, let it be for doing what is good and right. Your flesh will hate it, but Christ blesses it and marks it as glorious.
Even by afflictions, Jesus renovates the Christian's life. He teaches you with any and every affliction not to long for this world and its problems. With common aches and pains, he reminds you that these bodies will wear out and die, but he has revealed to you that a perfect, glorious body will be given to you at the resurrection. With every indignity that others would inflict upon you, you are reminded that your glory does not come in this world, but after the resurrection. Remember: The glory Jesus gives you is not a momentary thing in a temporary world. Jesus Christ, who dwells in you, will bring you to glory everlasting in Paradise. Every affliction forces us to flee to Jesus, and therefore, every affliction serves a good purpose for us, making us more Christ-like and more eager for his good gifts.
Christ renovates the Christian's life. He renews you day by day, even as he already declares you to be perfect and glorious, holy and blameless. Christ dwells in you and is transforming you—your mind, your words, and even your will—so that you will be more Christ-like in every way. And just as he dwells in you now, so also he will carry you through death to life eternal where your transformation will be perfected and your renovation complete. At last, you will be precisely what Jesus Christ has designed you to be, and you will bear that perfect design forever.
In the name of the Father and of the Son + and of the Holy Spirit. Amen.